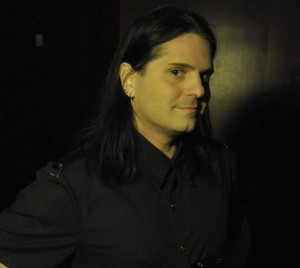 Welcome to the official website for Kallisti:Design. Founded in 2006 by Vlad McNeally, K:D has grown from a one-off summer of creating album artwork for local area Washington, DC bands to an esteemed name within the industrial-electronic scene as one of the premiere art houses in the field.
General Information
With a background in fine art and several years of fine art schooling under his belt courtesy of his tenure at Bard College in Annandale-on-Hudson, New York, Vlad McNeally first dabbled in the world of electronic design with a fan site for the German band, The Garden of Delight. While self-taught in the field of web design, it soon became he main occupation for the majority of his post-college years.
Professionally, Vlad is employed as a full-time web and print designer, utilizing such web-oriented technology such as HMTL, Flash, ASP, ASP.NET, PERL, CSS, WordPress, and Drupal
. However, while working in the corporate world proved profitable, Kallisti:Design became the outlet for his creative work which often times did not fit the niches offered during his daytime duties.
As of 2014, Kallisti:Design is one of the primary designers utilized by the critically-acclaimed industrial music label house, DWA Records, which currently resides in Japan. However, under this psuedonym, Vlad's work has appeared upon dozens of CDs for high-profile artists within this particular music genre, as well as graced the annual facade of international music festivals from Canada to the United Kingdom. Moreover, Kallisti:Design is also the webmaster and site designer for several music labels, high profile scene artists (such as Nachtmahr and Samsas Traum to name just two), and the source for many apparel designs, many of which quickly sold out after reaching their target audience.
Other Factoids (for the curious)
Pets: Three cats (Niko, Leo, Axel)
Favorite Designers: Dave McKean, Monozelle, Steve R. Gilmore
Musical Obsessions: Current 93, Fields of the Nephilim, Swans, Rome, (old) :wumpscut:
Other hobbies: Music Journalism (7 years with Side-Line, ReGen Magazine, and others), DJing, cooking, video games
Favorite destinations: New Orleans, Vienna, Dublin, Amsterdam, San Francisco, LA